Blue Lizard
August 3, 2010 - This gorgeous lizard posed for me today, despite her blue mate lurking nearby on a rock. She needed some distance.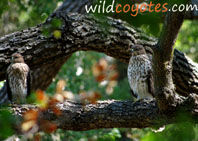 Two Young Hawks
July 4, 2010 - A day for celebrating freedom. 3 hawks showed up again during my hike. 2 younglings in a 7-10 split.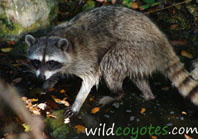 Surprised Raccoon
July 31, 2010 - I heard a pair of raccoons splashing in the creek. Raccoon is known as the Robin Hood of the animal kingdom.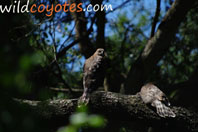 Hawks, one resting
July 3, 2010 - First day with my new zoom lens. The young hawks were relaxing in their woodsy hideaway.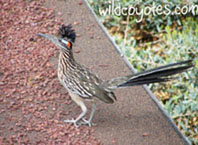 Carport Roadrunner
April 17, 2010 - Last night the coyotes serenaded me. This morning a roadrunner ran across the field and hopped to the carport roof below my balcony.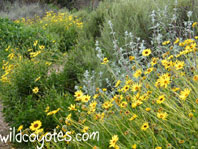 California Wildflowers
Early April 2010 - This has been the best Southern California spring season ever. Sage and wildflowers.
Hummingbird Guardian
May 22, 2010 - A hummingbird, who guards the gateway of the woods where I hike, today asked the question then posed for my camera.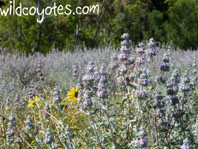 California Sage
May 12, 2010 - The scent of California sage ignites my imagination, and I suddenly find myself walking along a path inside Great Mystery.