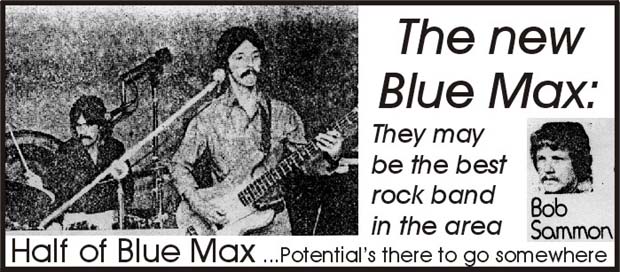 ...and then there were four

Dayton Journal Herald
October 8, 1977

Written by
Bob Sammon
Entertainment Reporter
---
Sometime back in the late spring, I wrote about a band that was, at the time, in transition. The group was breaking up and its leader, GARY HILL, was looking for new musicians to replace the ones who were leaving.
Gary called last Tuesday to say the latest edition of Blue Max had been organized and was again playing at Sawyer's in Miamisburg.
This latest reincarnation of Blue Max has been together for all of four weeks. They have been at Sawyer's for half that time. For the first two weeks or so they were working in a basement in Columbus [guess who's?] working up their show.
"We were in there long enough," said Gary, "that when we came out we realized it had turned cold."
Gary is a fanatic about his music and seems to have found the band he has been looking for for a long time. They share his dedication to the band like no one before them.
"They wake me up in the morning," he says, "with 'Are you ready to practice?'"
TERRY LOWE has been with Blue Max on and off through the years and is now back on drums full time. The two newest members are STEVE RHINESMITH on bass and TYSA GOODRICH on keyboard. Together they make up the hottest version of Blue Max to date, and maybe the best rock band in the area.
Gary is quick to talk about the strong points of the musicians he plans to be with for at least the next three years.
Tysa came out of another band and was introduced to Gary by the agent who is booking the band. She was a "pleasant surprise" with her musical training and excellent voice.
Steve is the bassman Gary raved about last time I talked with him, and the praise hasn't fallen off any. The fact that Terry has worked with Gary before and was included in the new band speaks for itself.
"I was honest with you last time," Gary said, "when I told you that the band was going nowhere . . . this one is. I really shouldn't say that -- I think it is; the potential is there."
That potential comes from, in Steve's words, "the best musicians I've ever worked with."
And they are good. The fact that they are all willing to dedicate themselves to Blue Max is only part of what makes them good. The rest is their talent.
Gary has always seemed to be one of the best of the local guitarists, but working with the band has sharpened his playing even farther. His riffs are a little cleaner; his rhythm a little brighter.
Tysa is good on the keyboard, but her vocal work is really impressive. She sounds a bit like some of the popular female vocalists, but not enough to hurt her. Like the other members of Blue Max, her voice is distinctive and, according to Gary, should make a big difference when the band gets into a recording studio.
Steve and Terry also get a chance at lead vocals. Gary has plans to showcase each member of the band and make the fullest use of their strong vocal work. Leads seem to be chosen not on the basis of ego boost for the performer, but rather on which voice best suits the song. The effect is dynamic. Since all four voices are strong enough for lead, the harmonies come off clean and pure with no one getting lost in the sound.
At the moment Blue Max is working on building a show that features most of the good popular tunes. They play selections from artists like Herbie Hancock and James Taylor, Dan Fogelberg and Joni Mitchell. Most of it is rock but with more energy and taste than most of the other area bands can manage to work with.
The band is also working on original material at the rate of one a week. There are plans to re-release the flip side of "Cincinnati" with a new arrangement to test the market.
"If you're not working on being as good as the Eagles or the other bands," Gary said, "you may as well hang it up." He feels that with the energies from the other members of Blue Max, there is a good chance at success.
"That's why I'm a fanatic . . . I'm not knocking the guys who only do it part time -- some of them are really good -- but we sleep together [oops! - a wistful predilection turned prediction], eat together and have to get along personally as well as musically." [Not so predictable]
"I don't believe that a band has to keep doing the same thing all the time," he concluded, "as long as we can keep direction . . ."
After next Friday their direction will be east to The Underground in Columbus and then west to a club called Bummers in Gulfport, Ill. [This is a mistake. The name of the club was Downers -- you see the confusion. Nevertheless, the story from that gig lives up to its name.]
If the band is tight after just a few weeks together, by the time they get back they should be really great. I, for one, can't wait.


[
parentheticals in red not part of the article
]